Chris Taylor
Chris Taylor the MLB player for the Los Angeles Dodgers is said to be having a break out season this year. He is getting his first taste of the postseason this fall.
Born Christopher Armand Taylor Jr. on August 29, 1990, the Virginia native was a 2009 Virginia Class AAA State Player of the Year, Two-time First-Team All-Beach District, Beach District and East Region Player of the Year (2009), Tidewater Player of the Year (2009); while attending Cox High School.
As team captain, led his team to Beach District and Eastern Region championships as well as state semifinals in 2009. He also earned Cox HS's Kurt Felthousen Memorial Award and was presented with the 2009 Gus Meloni Memorial Award.
Chris Taylor attended the University of Virginia –where his father, Chris Sr. and grandfather were members of the wrestling team. His mother's name is Mary and he grew up along with a sister, Noel.
He played college baseball for the Virginia Cavaliers. Taylor made his MLB debut with the Seattle Mariners on July 24, 2014. He was picked up by the Mariners in the fifth round of the 2012 MLB Draft.
The 27-year-old Taylor did an extended apprenticeship, going up and down between the majors and minor leagues for three seasons without establishing himself at the big-league level.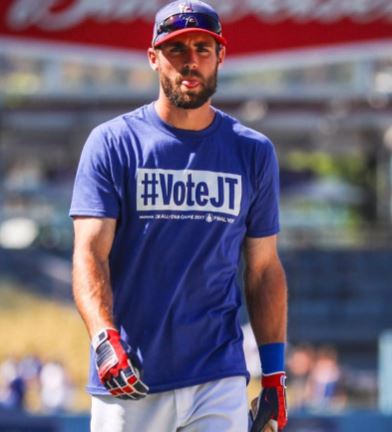 After being acquired by the Dodgers in June 2016, Taylor put it all on the line last winter, radically changing his swing and offensive approach, then embraced the need to learn a new position.
Chris is apparently single, however with professional athletes you never now. There's no sign of a special lady on his social media accounts. Chris Taylor won't stay single for long, on the supposition that he is on the market.
The guy has everything going for him, being a member of Dodgers probably means he is a walking chick magnet.
Find him on Instagram here.