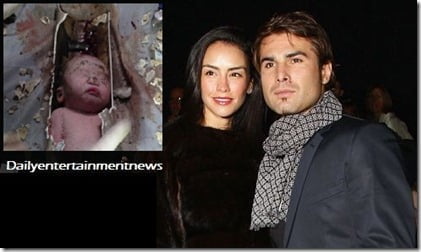 Former Chelsea striker Adrian Mutu wants to adopt the baby saved from a sewage pipe in China. The player, and father of three, confessed that he was moved by the story of the 5 lbs. baby who was flushed in a toilet and saved when he was found wedged in the pipe, that he and his wife Consuelo are willing to adopt him.
"I intend to adopt this baby," Mutu told a Romanian channel.
The footballer said he has discussed the plan with wife Consuelo Matos Gomez, and they would go ahead if a legal agreement could be reached because Romania is not currently on the list of 17 countries whose citizens can adopt from China.
"I couldn't figure out how to carry on living, how to eat my breakfast when I saw this story on TV. He's a special child. When I saw the baby I said 'I must adopt him, he has been sent to me by God," he said.
The story about Baby 59, named after the number of his hospital incubator, quickly spread worldwide with footage of his rescue showing medics at Pujiang People's hospital helping to break the 10cm diameter pipe piece by piece with pliers and saws. State media said the baby had a low heart rate when he was admitted and had suffered cuts and bruising, but was now in stable condition.
The baby's mother said she kept her pregnancy a secret after the father refused to support her and she could not afford an abortion.
"Just look at this poor little fellow. He made such a strong impression on me. I told my wife we have to help him, we have to do everything we can… I never thought I would adopt a baby, I had no plan concerning that, but I just know: I have to help this one."
Mutu's has been married twice, first in 2001 to Alexandra Dinu, the Romanian television presenter and mother of his eldest son Mario, they got divorced in 2003.
His second wife Consuelo Matos Gomez a stunning model from the Dominican Republic, daughter of Doctor Leonardo Matos Berrido president of the Dominican Baseball League, with whom he got married in 2005, they have two daughters together Adriana and Maya.
Consuelo met her hubby during the time she lived in Italy and he played with Fiorentina, her father was by that time ambassador to Italy , he was later appointed consul and later was director of the Vatican embassy.