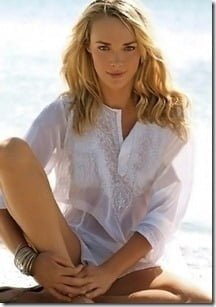 Meet Amanda Marcum Enfield, supermodel and wife of college basketball coach Andy Enfield. The couple got engaged just six months after they met!
Isn't he lucky?
She and Enfield met when he gave her a ride from New York City to Boston to watch the Oklahoma State Cowboys in the 2003 NCAA Tournament, according to Sports Illustrated.
Enfield was hired at Florida Gulf Coast University on March 31, 2011, a week before the birth of his only son. He was recruited via phone from the seat beside his wife's hospital bed, both before and after the delivery.
"I didn't even know the nurse was in the room," Enfield says. "I'm rolling. And I didn't know anything about FGCU. Then my wife says, 'Can you please be quiet?' "
The former swimsuit model who used to travel all over the world is now a stay-home mom raising the couple's three children: Aila, Lily and Marcum.
"It was hard for her to give her career up," Enfield told the Naples News. "But she loves sports so much and wanted a family and thought this is something she could do. I give her a lot of credit. Very difficult decision on her part to give up something she worked so hard for and had been so good at."
What a shame, she was very good at modeling! Check her out:
Amanda says she is happy with the choices she has made, that sometimes she misses her former globe-trotting life but that her sacrifices have been all worth it. Speaking about her husband, she said:
"Andy keeps me laughing. He's a great person to depend on, and he's a great friend and great father."
Amanda is an Oklahoma native and lives in Fort Myers. She is a 1996 graduate of PC West, in Mustang, Oklahoma. She has been in the cover of Maxim, Elle, and Vogue, and in ads for Victoria's Secret and more. She used to model for Stuff.
Find Amanda on Facebook here.