Meet Amy France
Amy France is the lovely wife of sports executive, Brian France.
The NASCAR CEO, was born Brian Zachary France on August 2, 1962, he is the son of Bill France Jr. He is known to be the grandson of Bill France, Sr., the founder of the privately owned, operated and managed NASCAR. Today, France family is considered as one of the most famous families in the country.
Brian attended the University of Central Florida but after two years he decided to enter the family business instead and left school.
Once named one of the "100 Most Influential of the Century" by Time magazine in 2006, France has been ridiculed in several occasions, most recently for not knowing all of what Trump has proposed, and still endorsing him.
According to the International Speedway Corporation, Brian Z. France, served as a director since 1994, he stepped into the role for his father in 2003 becoming the new CEO of NASCAR.  His father died in 2007.
Previously, he served as NASCAR's Executive Vice President since 2000 and Senior Vice President since 1999. Mr. France had served as NASCAR's Vice President of Marketing and Corporate Communications since December 1992.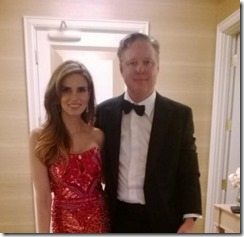 In addition to NASCAR, Brian France is also the owner of Brand Sense Partners, a licensing company based in Los Angeles. Among the company's clients include Halle Berry, Shabby Chic, Jenny McCarthy, Sheryl Crow, Britney Spears, as well as Goodyear Tire and Rubber Company.
Oftentimes, he was listed by Businessweek, Sporting News, Sports Business Journal and Forbes Magazines as one of the most powerful sports executive.
Amy France became Brian's second wife in 2009. Her husband was previously married to Megan Garcia.
France married his second wife, Megan, divorced, remarried her and divorced again between 2001 and 2008. Following the 2008 divorce, the couple went to court over alimony and child care disputes.
Amy France and Brian are the parents of two children. She gave birth to twins, a boy and girl named Luke and Meadow; and the family resides in NY.
Amy France is a former personal accountant and assistant. After the birth of her children, Amy France became interested in children's well being and along with her hubby created the Luke and Meadow Foundation, a nonprofit organization that raises awareness and supports causes aimed at benefiting children. Amy France and her husband have supported a number of causes related to children through the Luke and Meadow Foundation.