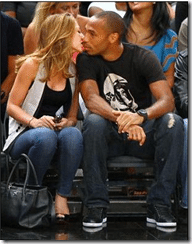 Andrea Rajačić was born in 1986 in Sarajevo, Bosnia and Herzegovina. The stunning 27-year-old is a Serbian part-time photo model. Currently, she is dating French footballer Thierry Henry. Andrea met Henry while visiting her younger sister who lives in Spain. The pair have been together at least since October 19, 2008, when they were pictured in Barcelona watching a basketball game.
Andrea's father is a well known plastic surgeon, Dr. Nebojša Rajačić; and although her dad could probably get her a major discount on any cosmetic procedure the gorgeous Bosnian model does not need a thing fixed! At least not now.
She got to work at Milk Studios in New York where she used to live, but after she was snatched from the single ladies market she's been living with her famous boyfriend and also takes some of her time to visit her natal hometown in Sarajevo, Bosnia.
Andrea's man who plays as a striker for the New York Red Bulls was previously married to another model, British Nicole Merry with whom he had a daughter named Tea. The couple parted ways in 2007 after only four years of marriage. But the French's past is something Andrea who is eight years younger than him seems not to care about.
The couple who seems to be getting along just great have been taking things slowly, keeping their relationship pretty much under the radar with no major scandals or gossip to really talk about. They have been spotted on several vacation trips and outings enjoying themselves but that's about it. One of their favorite spots seems to be a romantic getaway at the  Maldive Islands.
It has been rumored they plan to marry in the near future so that makes us wonder, what could our talented footballer be waiting for to propose to his beautiful girlfriend?? Early on in the beginning of the relationship Rajacic's man assured everyone he was in love:
"I am in love. Love is necessary and important."
Word! So he probably just wants to make sure right. Andrea looks super supportive attending all of his games and both of them are huge NBA fans so they are often seen with friends Tony Parker at games.
Andrea Rajacic used to be on Twitter , but she deleted it (cached page here)