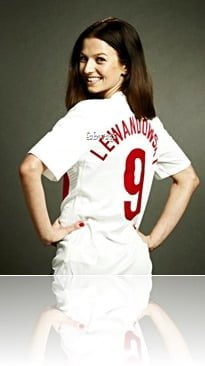 Borussia Dortmund Robert Lewandowski is about to say I Do this year, his girlfriend and fiancee is his longtime girlfriend, Anna Stachurska.
24-year-old Polish striker Robert Lewandoski comes from a family of great athletes, his father was a judo trainer, his mom was a volleyball player  the same sport his pretty sister Milena Lewandoski practices and his girlfriend Anna Stachurska practices Karate (black belt).
Robert and his GF Anna met in 2007 while they were at a seminar for students of the integration of the Warsaw School of Education and Sport, they have been dating ever since, although having a long distance relationship is not easy.
Like her boyfriend 24-year-old Anna Stachurska has a strict diet and workout, last year she won the bronze at the 33 Polish Championship Traditional Karate, also last June Anna was involved  in a car accident with Robert,  when his AUDI Q7 collide with a taxi in Warsaw, Pope John Paul II, Poland.
Anna Stachurska  and her beloved beau got engaged last year, they plan to get married in July, 2013.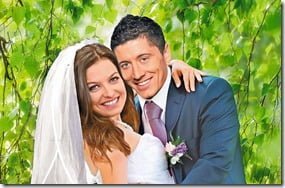 **Interesting facts**
Did you know that Robert Lewandowski doesn't like blonds? ironically when he met Anna Stachurska, she had dyed her hair blonde, today she wears her hair jet black which bring out her beautiful blue eyes.
When Robert met Anna he thought she was competing in dance, ballet  or even tennis, never for a second he thought Anna was actually a Karate competitor.