Beth Tibbott
Beth Tibbott is the lovely girlfriend of NFL linebacker, James Harrison. Her 38-year-old beau will meet with NFL investigators on Thursday at 11 a.m. ET over the Al-Jazeera report that linked four active players to performance-enhancing drug use.
After practice today, he said in interviews, he considers the interview a waste of time because the league will come up 'empty' and is 100% sure his name will be cleared. Sounds very positive to us! It might help having an attorney as his girlfriend and baby mama!
Harrison was born May 4, 1978 in Akron, Ohio. He played football at Archbishop Hoban High School and Coventry High School. The 1.83 m player was signed in 2002 as an undrafted rookie by the Steelers out of Kent State.
Harrison is a five-time Pro-Bowl selection during his 9-year career with the Pittsburgh Steelers. He was named AP NFL Defensive Player of the Year in 2008 and helped the Steelers win Super Bowls XL and XLIII.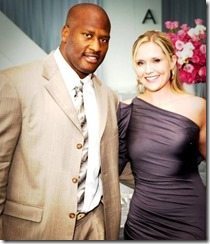 Beth Tibbott is not your regular NFL wag. The blonde who has the looks to pull off being the lady of a famous athlete, is also a busy lady during the day. She is a notable Pittsburgh area attorney.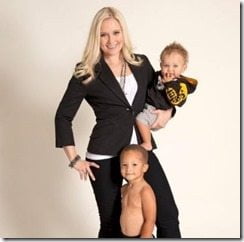 The blonde has a successful career of her own. According to her LinkedIn, she graduated Summa Cum Laude in 2002 from Mount Aloysius College. Following her college graduation, Beth Tibbott took a position at the Pittsburgh law firm of Dornish & Scolieri, PC as a Law Clerk in 2003. At the same time she was also attending law school at Duquesne University School of Law.
Upon graduating from law school at Duquesne and receiving her Juris Doctorate in 2007, Attorney Beth Tibbott sat for the bar examination and was admitted to the Pennsylvania Bar that year. Beth accepted a position at Allegheny Attorneys at Law in Pittsburgh, PA. In 2008, she began working for the Cook Law Group.
In 2010, Beth established the Tibbott & Richardson law firm with Attorney Dana Richardson, where she specializes in criminal law, specifically in DUI defense. Beth Tibbott has been named a Top 40 Under 40 attorney by the National Trial Lawyers organization.
On top of running the world through her law practice, Beth Tibbott is also the mother of the couple's two children. Their sons are Henry Harrison and James Harrison III.
You can check out Beth Tibbott on Facebook here.