Camille Kostek
Camille Kostek is the new girlfriend of New England Patriots tight end Rob Gronkowski; therefore the pretty NFL Wag will become one of the most envidiable women in the NFL. Is no secret Gronk's female fan base is extensive.
According to TMZ sports, 25-year-old Gronk and the hot blonde have been seen out and about a few times, sources close to Gronk have apparently confirmed the relationship adding: they are not trying to hide.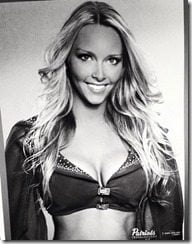 Furthermore, Kostek is a stunning model and former NFL cheerleader. She was on the New England Patriots cheerleading squad in 2013 and 2014.
Apparently those days are long gone; since she is now set to become a TV reporter.
According to her Facebook page, Kostek works as a fitness instructor at Modern Barre. The New Haven Register reports that Kostek is a communications major at Eastern Connecticut State University.
Finally, Camille who left cheerleading for good last March on a moving Instagram post, has also appeared in commercials and music videos like the one below!
Find her on Instagram here.