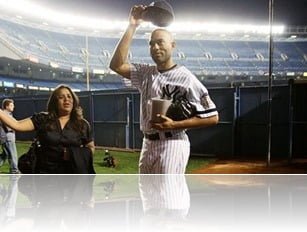 Meet the only and only Clara Rivera, she is the loving wife of the great MLB player Mariano Rivera aka Mo Rivera who will announced his retirement from Baseball over the weekend.
There is nothing we can say to make Mo Rivera reconsider his retirement, we will bloody miss him  and we for sure miss this beautiful MLB WAG Clara Rivera.
The 43-year-old NY Yankees relief pitcher Mariano Rivera for sure a favorite baseball player among fans all over especially his beloved Panama, made his debut with the Yankees on May 23rd, 1995. He was awarded with the 1999 World Series MVP Award , he is a five-time AL Rolaids Relief Man Award recipient, three-time Delivery Man Of the Year and a five-time World Series Champion.
But sadly all good things have come to an end, Mo will announce his retirement at the end of this season this Saturday, on May Mo suffered a season-ending torn ACL.
"I won't give it up until I'm ready for that," Rivera said Feb. 13. "I will tell you guys when it is the right moment. It's something that I have to do. Other things. Personals. Don't worry, the time will come. You guys have been patient enough."
Mariano has been happily married to his wife Clara Younce Rivera for nearly 12 years, they have known each other since there were two young teenagers in Elementary School in Panama, they began to date while they were attending school together and got married on November 9th, 1991.
Clara and her famous hubby have been blessed with three wonderful and beautiful sons, Mariano Jr., Jafet and Janziel.