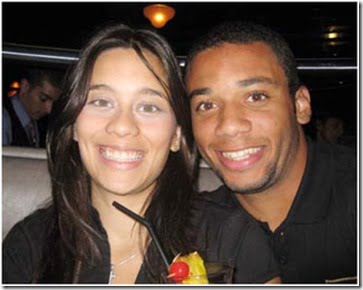 Real Madrid Left back Marcelo Vieira may be young but felt head over heals in love with wife and tied the knot when he was only 20 years old! I guess when you find true love you just know it! The Brazilian soccer player is incredibly romantic and evry time he socres a goal he makes a heart with his hands, in order to dedicate it to her and their family because of everything they mean to him!
In 2008, Marcelo married his longtime girlfriend Clarisse Alves and on 24 September 2009, they had their first child, a son named Enzo Gattuso Alves Vieira
Number 12 shirt met his future wife Clarisse Alves with the help of her brother who introduced them when they were 15 years old and they've been in love ever since. When Marcelo moved to Real Madrid, Clarisse Alves-smart girl- moved in with him so they have never been kept away from distance. They married short after Marcelo's arrival to Madrid, but apparently they already felt married even before the ceremony took place.
Little Enzo looks exactly like his famous father right! So cute to see them together, they seem to really enjoy family time and keep things private. The beautiful Brazilian is always seen in her natural look and is super supportive of hubby appearing at every soccer match with little Enzo and flying around with her family.
You can see more pictures of her here. And follow her on twitter here.