Think is time for 33-year-old Tennis ace, husband and father to retire? Well he certainly thinks so. The the first day of the U.S open People mag's sexiest man alive James Blake has decided to do exactly that after "14 pretty darn good years on tour"
At the early age of 33, he might just have it all, he is married to beautiful Emily Snider and the couple who tied the knot on 9 November 2012, are already parents. Let's get to know his gorgeous wife a little better.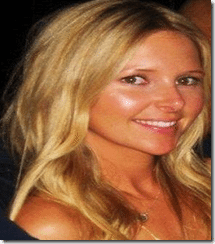 Her mother is Kathy Snider, Emily has one brother named Jason Snider. She moved from Milwaukee where she served in media relations and for the Milwaukee Brewers.
According to Crimson Marketing and Public Relations (CMPR) page, Emily who works with the publicist firm is a special event manager. On her profile it says Snider serves as VP of National Accounts for CMPR and has been with the company since the opening of the San Diego office in August 2005. Among Snider's major accounts are Sugar Ray Leonard, ESPN, and Mark Burnett Productions.
She has been working in the media her whole life; before joining CMPR she worked in the field with the Sports department at FOX 6 San Diego, her duties included overseeing contestant screenings and appearances, and managed the floor on tape days. Her resume also includes time spent in Development and Acquisitions with FOX SPORTS NET. She created for them program announcements for new shows and events.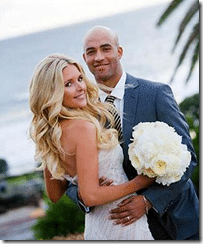 The sunset ceremony took place at the beachfront L' Auberge Del Mar hotel with the bride, 37, donning an Ines DiSanto gown, Emily looked gorgeous with her wavy, flowing blonde locks, and Blake, as always, looked dashing in a Hugo Boss suit. They dated for four years, their little daughter Riley Elizabeth was born in June 2012 and accompanied the couple during their special day. She was seen heading down the aisle with the bride's mother.
Her hubby plans to spend more time with her and their one-year-old baby girl and then perhaps will move on to TV commentator which is something we are sure Emily knows a one or two tips! Great good looking couple, we wish Blake and his family the very best!
You can follow Emily on twitter here.