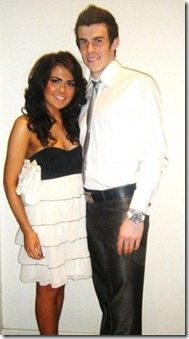 Gareth Bale is being signed with Real Madrid who is reserving their no.11 shirt for him while Tottenham remain confident that Bale will sign a new deal to stay at the club at least for another year.
Many people describe him as a footballer with "tremendous speed, great crossing ability, a great left foot and exceptional physical qualities". Bale was ranked as the ninth best footballer in the world this year.
Gareth Bale is dating his childhood sweetheart Emma Rhys-Jones, but he doesn't talk too much about her. We do know that she must have some hair skills because she cuts her boyfriend's hair.
The footballer revealed that the heart-shaped sign he has always made with his hands after scoring his goals was a message to his girlfriend.
Bale and Rhys-Jones both grew up in Cardiff, Wales. They had a long distance relationship for quite some time but they stuck together during the star's career raise in English football. Many rumors of one or the other cheating have surfaced but they have managed to trust one another and maintain their relationship stable. Rhys-Jones eventually moved in with Bale in White Heart Lane.
Emma Rhys-Jones gave birth to the couple's first child, a daughter named Alba Violet, at the University Hospital of Wales, Cardiff on October 21, 2012. Bale cancelled an appearance against Chelsea in a crucial London derby match in the Premier League to be with them.