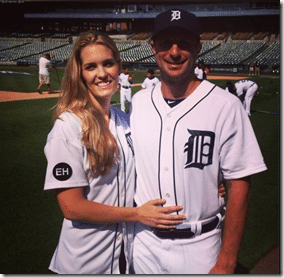 With the looks of America's sweetheart, meet Max Scherzer's long time flame, she is beautiful blond Erica May. She was born January 30, 1986; she calls hometown to Englewood, Colorado. Erica attended Cherry Creek high school and then moved on to the University of Missouri where she became part of the "Mizzou Tigers" softball program.
He met girlfriend Erica May while After being drafted late Max decided to attend Missouri, that's when you think, things happen for a reason huh! Erica was a pitcher on the Missouri softball team and the two have been dating for over 8 years. Not only was Erica a big softball fan she is also of all things a huge Oakland Raiders fan.
We are not sure when it happened but after eight years of one on one face time between the couple, she tweeted a picture earlier in the year posting:
"I have the best fiancee! He got my new fav (and hoepfully future Raider) Jarvis Jones', autograph for me!"
Referring to a autographed baseball her thoughtful boyfriend got for her, how sweet a guy who knows what his girl likes! Erica is pretty active and supportive of her guy, she is big on charity work and recently "ran for the cure" during Detroit's marathon battling breast cancer. She can always be seen accompanying her man whether for games or helping in their work with kids. Erica is been unconditional to the pitcher helping get through rough times when last year Max's only brother committed suicide. Now Erica's boyfriend dedicates every game to his late brother.
The tall and always smiling 27-year-old has a brother who is studying to become a doctor and a sister whom she enjoys to snowboard with. We found a sexy picture of Erica taken a couple of years ago and seriously she should think about being a model, don't you think she has the looks?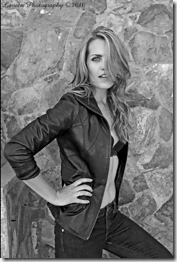 Photo Credit: Laveen Photography.
The couple currently resides in Phoenix, Arizona with their two cats.
Go Tigers!!!!
You can follow her on twitter here.