Heather Van Norman
Heather Van Norman is the lovely and proud mom of NFL star, Odell Beckham. Her 24-year-old son currently plays for the New York Giants.
Heather Van Norman's son has gone on to become a great athlete. He was a 2013 Second-Team All-SEC selection with the Louisiana State University Tigers and also received the 2013 Paul Hornung Award. The wide receiver was selected 12th overall in the 2014 NFL Draft by the New York Giants.
Heather Van Norman is most likely his biggest fan.
Heather Van Norman was born to Millie and Don Van Norman, in Windom Minnesota. She met Odell Beckham Sr. while attending LSU.
Odell Beckham Jr. happens to be the son of athlete parents. While his father, played in 28 games, starting nine times for the Tigers, Heather Van Norman is a former college track runner turned a track and field coach.
His parents met while attending LSU. Odell Beckham Sr., played running back at LSU from 1989-1992.
Heather Van Norman, was an All-American track runner at LSU from 1991-93. During her college career, she helped lead the Lady Tigers to five national championships.
Heather Van Norman is a former member of two NCAA Indoor titles in 1991 and 1993. She also holds three-straight NCAA Outdoor titles from 1991-93.
She left LSU as a six-time All-American and captured three individual NCAA titles as a member of LSU's relay teams during her senior season in 1993.
She gave birth to Odell on November 5, 1992 –while she was working to get the Olympic trials.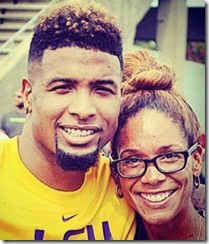 Her coaching career began at Rice, where after two years she moved on to become an assistant at Georgia Tech and spent four years in Atlanta.
According to her profile, in 2002 Van Norman was named the head coach at Tulane University and spent the next seven years producing student-athletes. Her students made 16 NCAA Championship meet appearances and 44 NCAA Mideast Regional appearances.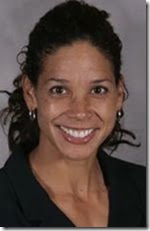 Van Norman has coached one All-American in Gloria Asumnu, along with 144 all-conference nominations, who won 14 Conference USA individual titles in various events.
She currently serves as the head coach for Colonels track and field and cross country of the Nicholls State University.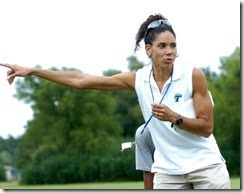 Following the birth of her first child, Heather Van Norman and Odell Sr. became full-time athletes, students and parents.
However, she windup marrying Derek Mills –an Olympic Gold medalist in the 1996 games. Heather Van Norman is also the mother of daughter Jasmyne Mills.
You can find the lovely Heather Van Norman on Instagram here.