Meet former gymnast from Japan Honami Tsuboi, she is the girlfriend of tennis phenomenon, Kei Nishikori.
The 24-year-old has been popular with the ladies, he had a high profile girl friend in Chinese table, tennis star Ai Fukuhara. They studied in the same school. But all that is in the past as it was reported he took new love interest Honami to meet the parents last year!
Online sources claimed the couple was introduced by a mutual friend and soon after they had dinner together they hit it off, Tsuboi allegedly took care of him when he was diagnosed with kidney stones becoming his "personal manager"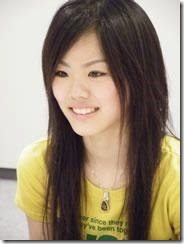 Honami was born April 5, 1989 in Gifu, Gifu, Japan. She is a certified yoga teacher and studied nutritional science at Waseda University. She is also an athlete, Honami belongs to the Japanese national rhythmic gymnastics team. She participated in selected organizations as 2006 first quarter FAIRY JAPAN POLA in Greece in 2007, the world championship tournament. She attended the Beijing Olympic Games 2008 -2009 Rhythmic Gymnastics World Championships; event: ribbon rope
The 5'6″ 99 lbs completed the Yoga Alliance (Yoga Alliannce) certification, YTT200
Her boyfriend who began playing at age 5 is the son of a paino teacher mother (Eri) and an engineer father (Kiyoshi). According to his personal profile he is also brother to older sis, Reina who graduated from college and works in Tokyo. When he moved from from Shimane, Japan at age 14, he didn't speak a word of English. A young Nishikori belonged to the Masaaki Morita Tennis Fund group and started training at the IMG Bollettieri Acadamey in Florida.
Ever since they became an item, Honami is seen accompanying Kei when there is a game in Japan.
Honami's boyfriend is one of the rare players who earn more from endorsements than from prize money. His net worth is estimated at $10 Million.
Tsuboi retired from gymnastics in 2010 and has been dating Kei for about two years. She must be really proud of her Tennis playing boyfriend; the 21st-ranked Nishikori has now eliminated Federer twice in a row after upsetting the 32-year-old at the Madrid Masters in three sets last year.
Fin her on Facebook here.