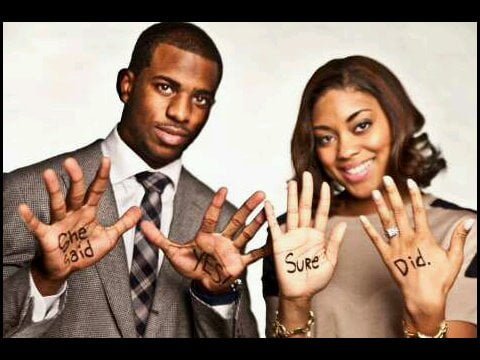 Jada Crawley has been married for 3 years with the American professional basketball player Chris Paul who plays for Los Angeles Clippers of the NBA.
She attended Wake Forest University where she met Chris at a basketball game and stared dating in 2003. They have two children, the first one named after Chris father Christopher Emmanuel Paul II, on May 23, 2009.
On an interview Chris said: "Jada was with me when I was broke."
Jada said that sometimes it was difficult to live with Chris's family: "Sometimes they gave me the side-eye like, Is she here for the right reasons? But Chris stood up for me. It made us stronger. "
Jada Crawley was 27 years old and Chris Paul 26 when they got married on September 10, 2011.
Jada's wedding was at the Ballantyne Hotel and Lodge in Charlotte, NC.  It was one extravagant ceremony and she wanted to be at her home state, were her family and friends are.  They celebrated their fairy tale wedding in front of 300 guests.
Jada's second baby is a girl named Camryn Alexis Paul on August 16, 2012. She was so excited for her baby girl that she even tweeted it:
"I almost forgot how amazing it felt to be given the gift of life. I can't stop staring. Thank you to everyone for the love and well wishes!
Jada Paul (@Jada_AP) On August 17, 2012"
You can find Jada Crawley on Facebook and Twitter.