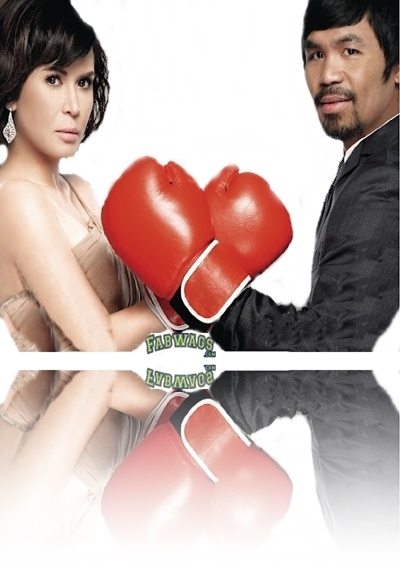 Have you met Manny Pacquiao's Fab wife? I think we all know who is Manny's pretty lady, her name in Geraldine, but we all know her as Jinkee Pacquiao and this delicious lady is her husband's most loyal fan, I think we are going to enjoy learning a few things about Mrs. Pacquiao.
Maria Geraldine "Jinkee" Jamora was born on January 12, 1979 with a twin sister named Janet. Born with a conservative family background, she is the daughter of Nestor and Rosalinda Jamora. They are a middle-class family, whose means of living depends on coconut industry, both buying and selling. Jinkee and Janet are the third siblings.
While working at Filmark Mall, Jinkee's uncle, Reynaldo Jamora mentioned that he had a young and a good friend named Manny Pacquiao. Manny was still in his amateur boxing career at that time. They got married on May 10, 2000 and have four children: Emmanuel Jr. (Jimuel), Michael Stephen (Michael), Mary Divine Grace (Princess), and Queen Elizabeth, "Queenie". She never thought that Manny would be famous. Like Manny, Jinkee is a celebrity of her own. She has commercials and she is the endorser/model of Belo Medical Group.
She is hoping that Manny will decide to retire soon, but since this summer in which both won their respective elections in Sarangani, Pacquiao is back to prove he still isn't finished with boxing. Jinkee became vice governor of Saragani and assumed office in June of this year. Manny also won his elections running unopposed for his second term as congressman. And one more incentive for retirement: Jinkee is expecting their fifth child!
Related Story : Krista Ranillo, Kat Ordonez – Manny Pacquiao's Rumored Mistresses
On Saturday, Manny will be back in the ring for the first time since his sixth round knockout in December at the hands of Marquez. This time he will face Brandon Rios in Macau, China. Depending on how things go, Manny might start listening to his wife's pleas, and decide to retire. He still will be a pretty busy guy regardless. And as for Jinkee, she will surely have her hands full too!