Meet John Constantinides
John Constantinides is the man who went on a date with Jennifer Petitgout and got punched by her now ex-hubby.
We previously told you about Jennifer Pettigout in another post. Last year she made headlines when she filed for divorce from former NFL tackle, Luke Petitgout, after he stormed into a Midtown lounge and slapped her. Luke also attacked Jennifer's male companion at the time. You can read more about her on the link below.
JENNIFER MARINO PETITGOUT – NFL PLAYER LUKE PETITGOUT'S WIFE
At the time of the assault, it was precisely John Constantinides who was at the table with Jennifer. The incident lead to the current assault trial against Luke Petitgout.
44-year-old John Constantinides testified on Monday and said during his time in the stand, he had met Jennifer on an adult website. Petitgout allegedly slugged Constantinides before slapping Jennifer.
John testified among other things,he had been chatting with the mom of three, and that they first met in person when the altercation took place. He also said he and Jennifer had exchange naked images.
He said of the scary moment on June 5, 2014:
"came from behind and sucker-punched me," "He continued to fight with me, attack me and right before the security guards came over, he punched Jen in the face,"
Constantinides admitted that he refused treatment and didn't see a doctor until after consulting a personal injury lawyer.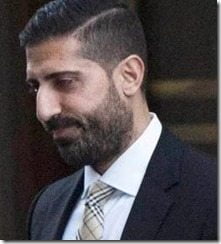 John Constantinides is a restaurant manager who was convicted of mortgage fraud in 2013 and still owes $1.2 million in restitution.
While Jennifer refused to cooperate with prosecutors and asked that the charges against her estranged hubby be dropped.
According to the NY Daily News, John currently works at his family's restaurant Katch in Astoria –a sports Bar and Restaurant. John attended Queens College City University of New York-queens College and previously worked at Wells Fargo Home Mortgage.
A blog under his name, says the NY native worked as a manager with eBridgeBuilder, a marketing research firm in New York's Nassau County, in 2013. He took the job following a decorated eight-year tenure with home mortgage leader Wells Fargo.
You can find John Constantinides on Twitter here.