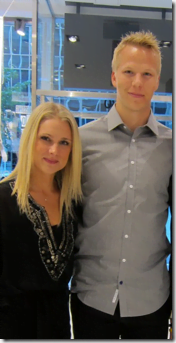 OMG!! Talking about nasty accidents! I bet poor Julie Eller suffered the scare of her life! Julie is married to Danish professional ice hockey player Lars Fosgaard Eller who currently plays for for the Montreal Canadiens of the National Hockey League.
Player for Ottawa Senators Eric Gryba gave a severe blow to Lars Eller during Thursday night's game! Eller hit the ice hard and before everyone's eyes he was pouring blood all over! He left the ice on a stretcher and took the direction of the hospital, where he is still under surveillance.
And altough 23 year old Lars is having a fine recovery Gryba was suspended for two games, several said that there would be no suspension, but ultimately, the disciplinarian, Brendan Shanahan, to impose its laws do you think this was fair?? Well after all Julie's hubby is one of the best current young Danish players.
Gorgeous looking Julie was his long time girlfriend before officially becoming Mrs. Lars Eller in 2010 with only 20 years old! They became parents to their first born last year. Julie gave birth to a baby girl.
They sure make a beautiful couple of blonds!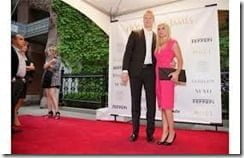 The couple spent Christmas together in their native Denmark enjoying being parents for the first time with their 11 week old baby girl.
We wish Julie's husband a fast recovery and surely she will be taking care of him as he recovers from a broken his nose in addition to losing teeth.