New York Giants outside linebacker Kyle Louis Bosworth is engaged to The Real Housewives of Orange County actress Kara Keough. The couple met when they were both students at UCLA. Take a look at the gorgeous ring!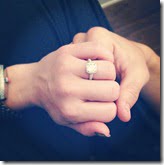 Let's meet Kara Keough:
Kara is the daughter of Jeana and Matt Keough. Her mother is one of the original "Real Housewives of Orange County" and her father is former Yankees pitcher. Kara is sister of Colton and Shane Keough, both athletes. She is known for starring on the hit reality show Real Housewives of OC.
Kara and Kyle moved to Florida when he was signed to the Jaguars in 2010, and still live there today. She works as a Marketing Specialist for Accounting Principles, Ajilon Professional Staffing & Parker + Lynch in Jacksonville.
Kara Keough studied Interpersonal Communication in University of California, Los Angeles from 2009 to 2011 and had two years of undergraduate education before transferring to UCLA at University of California, Berkeley.
Kara has also appeared in the movies Outbreak in 1995 and Implicated in 1999. Also in the 1999 TV series Chicken Soup for the Soul and in the 2000 movie Miracle in Lane 2.
Find Kara Keough's profile on IMDb here. On LinkedIn here. Follow her on Twitter here.