Kareem Hunt
Kareem Hunt, the professional NFL player currently signed to the Kansas City Chiefs –can be seen pushing and kicking a woman in new released video.
The 23-year-old running back got into a violent episode last February and footage of the incident has been released.
Hunt who is off the hook, could've ruin his short career in the NFL. However, prosecutors elected not to charge him.
Reports say Hunt –an Elyria, Ohio native brutally attacked a woman at Hotel in Cleveland. The 23-year-old who is 5 ft 10 in and weighs, 216 pounds –is said to have pushed, kicked and slammed the young woman after she refused to hook up with one of his friends.
The incident took place Feb. 10, the video, published by TMZ, appears to be security footage from inside the building.
Hunt can be seen approaching the woman and engaging in a verbal argument before shoving her back with his right hand. He then tries to free himself and charge toward her –after multiple people try to restrain him. He ultimately walks over to her and kicks her with his right foot.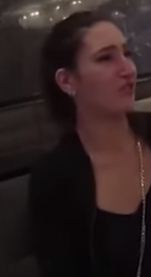 Born August 6, 1995; as the son of parents Stephanie Riggins and Kareem Hunt –Kareem began playing football in high school. In his junior and senior years of high school, he combined to rush for 5,204 yards and 83 touchdowns.
Over his college career at Toledo; he was First-Team All-MAC twice (2014, 2016). Rushing for 271 yards and 5 touchdowns earned him the MVP of the 2015 GoDaddy Bowl. Following a successful college career at Toledo, he was selected in the 3rd round of the 2017 NFL Draft by the Kansas City Chiefs.
Hunt has had so far, a good run with the Chiefs; he led the league in rushing last season. He rushed the ball 181 times for 824 yards and seven touchdowns, while adding 26 catches for 378 yards and seven more receiving scores. But seeing him kicking a woman is definitely a stain in his good name and could potentially result in a penalty from the NFL.
The woman in the video has yet to be identified.