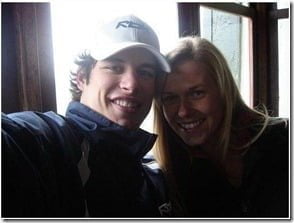 Professional ice hockey player Sidney Patrick Crosby, who is captain of the Pittsburgh Penguins of the National Hockey League, will return to action Friday night in Game 2 of the Penguins' Eastern Conference quarterfinal series against the New York Islanders, after missing more than a month while recovering from a broken jaw.
"I think that if a doctor clears you to play, that gives you a lot of confidence going out there knowing that you can play and take a hit, so I'm not concerned," Crosby said.
Sidney Crosby's girlfriend is Kathy Leutner. She is an American model who has already hit some magazine covers. We don't know the exact date Crosby and Leutner began dating, but it may have been as early as 2008. It looks like a very serious relationship.
26-year-old Kathy Leutner has been modeling since the age of 18, when she was discovered near her hometown in Virginia. She was in the running for SI Swimsuit 2011 model search, but sadly she didn't make it.
She works for Abercrombie & Fitch and has been on the cover of Fitness magazine many times. Kathy Leutner has also made advertisements for Faviana Couture and Hollister Co. She works with Click Models Agency.
She calls herself an Eagles fan.
There's not too much information about this hot, long-legged model, seems that the couple have managed to keep their relationship out of the spotlight.