Kia Proctor aka Model Hazel!
Kia Proctor the longtime girlfriend of NFL quarterback Cam Newton who is currently a player for the Carolina Panthers became the proud parents of a baby boy over Christmas, but what do we know about Cam Newton's baby-mama Kia? Who is this stunning NFL Wag Kia Proctor? Is she the same girl who dance at a that DC strip club under the name Hazel? Find Out!
"My longtime girlfriend and I were extremely blessed to have a son last week,. Our family is excited and thank you all for the well wishes!"

"I've been quiet about this because I didn't want to create a distraction for my team and appreciate the privacy in this joyous time," Newton, 26, added.
In the past we all meet Cam Newton's girlfriend as model Hazel, she is indeed the same girl that gave birth to the QB's first child, Kia Proctor, 27, who is also the momma of a teen daughter from a previous relationship.
The former Auburn Tigers turned pro QB for the Carolina Panthers Cameron Jerrell "Cam" Newton has been dating Kia or Hazel for over three years. When we first meet the bronze bombshell she was introduced to us as Hazel, but she is Kia or Erika Proctor.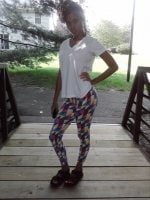 In 2013, Kia Proctor aka "Hazel"  had her Twitter account under the name "Erica Hazeleyes." Kia Proctor, Erica or Hazel, was born Shakia Ladawn Proctor on October 16, 1986 in Virginia to Jerome Proctor and AnnaMarie "Marie" Pistone. On Twitter she claimed she is a model and dancer, although some online reports describe her as a stripper!
We can tell she likes Hello Kitty and is into tattoos, the Libra sign gal says on Facebook
Hey its me Hazel from Toyboxdollz
She's been featured in Houseofcandyonline.com and on Facebook you can find her as "Lady E"
She was also featured in a 2011 article of Infamous magazine. She has this "chameleon" style, she tend to look very different in pictures.
2010 was a cool year for her man, he not only became the Heisman Trophy winner but also won a national championship, and Cam Newton became the first overall pick in the NFL draft all in the same one-year span!
~So maybe Kia Proctor/ Hazel was once a stripper, she is not anymore, she also worked for the famous Washington DC Stadium Club and some sites also reported that Kia Proctor worked as a party hosting socialite.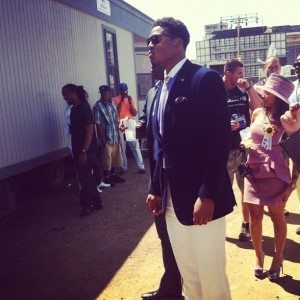 She and Cam first came to light earlier in 2013,when they were first spotted at the 2013 Kentucky Derby or Preakness.
Crazy rumors that she was expecting was first reported years ago, that and also that they were no longer together! At least now we know for sure they are very much together and living a happy life as a family wit their son.
Find Kia Proctor or Hazel on Facebook here and twitter here. Don't miss her video below!
Photo Credit: James Johnson