Larissa Pereira
Larissa Pereira is the sexy and supportive wife of Brazilian soccer star, Roberto Firmino. You might now her man as the 25-year-old forward who plays for Premier League club Liverpool.
Before we tell you about his lovely wife of two years, let us give you some interesting facts about her soccer stud hubby. Larissa's husband was born Roberto Firmino Barbosa de Oliveira on 2 October 1991 in Maceio, Brazil.
Roberto's first steps in the game were seen at the local side Clube de Regatas Brasil, before a subsequent professional opening at Tonbense FC.
Roberto began making heads turn when in 2009 he was switched to Santa Catarina-based club Figueirense. He gave a taste of his potential by firing eight goals in 36 league appearances throughout 2010. He was then acquired by Hoffenheim of the Bundesliga.
Roberto has been seen as an example of consistency and in 2012 after he suffered serious ankle ligament damage, he proved his commitment by making a rapid return four months later.
Roberto also debuted for Brazil as a substitute against Turkey in November 2014 and then opened his international account six days later by scoring past Austria.
Last season saw Firmino reach double figures in front of goal in all competitions for Hoffenheim again, making him an obvious selection for Dunga's squad at the Copa America, where Brazil reached the quarter-finals.
Liverpool had been watching all along and acted fastest to put together a deal for Firmino ahead of the 2015-16 season. Unfortunately, the South American made a slow start to life at Anfield, suffering a back injury in September. He netted his first goal for the club in a 4-1 win over Manchester City in November.
Accoridng to his Liverpool profile, Roberto ended the campaign with an impressive, 11 goals and 11 assists in all competitions, carving out a reputation as an emerging Premier League star.
Enough about Roberto, how about if we continue with his stunning better half!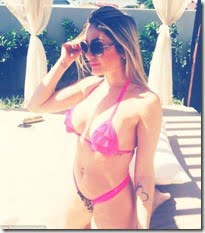 Larissa Pereira met her future husband about four years ago. The now wag and the soccer player were at a Brazilian nightclub back in 2013, when they crossed paths.
Fast forward to 2017, they are not only husband and wife but have added two young children to their growing family.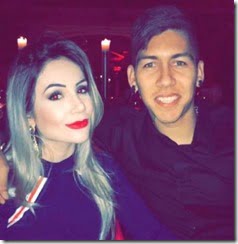 The sexy blonde also hails from Brazil, Larissa and Roberto were married in 2014 and since then have welcomed two children.
Also in 2014, the blonde beauty gave birth to the couple's first child. The couple named their baby daughter, Valentina Firmino. The young couple welcomed another baby girl in August 2016.
24-year-old Larissa Pereira has sure fit in the role of a wag, she has shown her support for her man as she and her daughter have been photographed more than once in the stands.
Larissa Pereira and her husband who are known as Brazil's Posh and Beckham, recently suffered a hell of a scare after their Merseyside home was burglarized, recent reports say.











Can you imagine Larissa's scare! Comment below.











You can check out Larissa Pereira in Instagram here.