Welcome to FabWags.com. Wives and Girlfriends of today's top Athletes . We feed the hunger for sport's pop culture content, covering  Football, Soccer, Baseball, Basketball, Tennis, UFC and Extreme Sports. Enjoy!!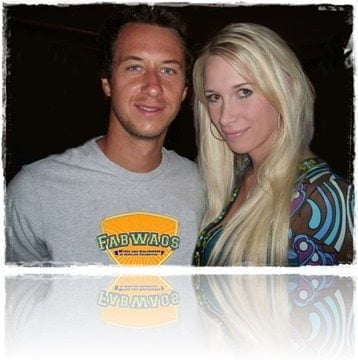 This pretty hot blonde is Lena Alberti, she is the longtime girlfriend of the German tennis player Phillip Kohlschreiber, you probably have seen her in some of his matches if not in every single one, we heard Lena is always cheering for her man.
29-year-old Phillip Kohlschreiber has been playing tennis professionally for 11 years . He became the first German to win the BMW Open in Munich  since  Michael Stich won it back in 1994. In 2008 Phillip won the Heineken Open after defeating the Spaniard player Juan Carlos Ferrero. In 2012 he took another title defeating his compatriot Philipp Petzschner at the  Gerry Weber Open  and reclaimed his title at the 2012 BMW Open defeating Marin Cilic from Croatia.
All his triumphs have been pretty exciting, but we are more excited to get to know Kohlschreiber's girlfriend Lena Alberti, his girlfriend for a couple of years already. They met through mutual friend around the time Phillip moved to Munich. She has been his most loyal fan, supporter or good luck charm some might say.
Photo credit: Juergen Hasenkokpf
Related posts: