Luisa Fernandez
Luisa Fernandez aka Luisa Emery is the beautiful and caring wife of Unai Emery, the soccer coach for Spanish club Sevilla; Unai a retired soccer player who started his career with Real Sociedad, also coached Valencia for several years, before joining Sevilla in 2013.
Luisa Fernandez Emery's husband Unai Emery was born on November 3, 1971 in Hondarribia, Spain. he started playing soccer with Real Sociedad, joined Toledo in 1996, Racing Ferrol in 2000, Larganes two years later and finished his career at the age of 32 with Lorca Deportiva in 2003.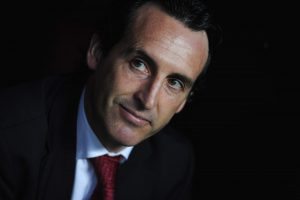 Unai was named Lorca manager in 2004, and joined Almeria in 2006 and signed with Valencia in 2008, in May, 2012 he was named Spartak Moscow's coach and was introduced as Sevilla's new head coach on January 14, 2013.
Unai Emery's wife Luisa Fernandez was born in Malaga, she met her husband in Madrid where she was working at and Unai was enjoying a quiet dinner with some friends who also knew Luisa and introduced them. They got married in 1998 and they son Lander who is a goalkeeper at Valencia was born on March 29, 2003 in Madrid.