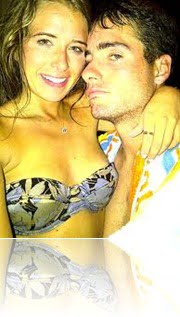 29-year-old Madison McKinley or Maddy McKinley is dating American Tennis player John Isner, she called people's attention last year during his match against Novak Djokovic, I am sure you didn't miss her, but just in case allow us to tell you a little bit about Mr. Isner's gal Maddy McKinley.
I am sure  nobody expect #11 John Isner defeating #1 Novak Djokovic? but the family of this handsome 6'2" tennis player from Greensboro were certain he could, along them was  his dear girlfriend Madison McKinley, who we saw  since the cameras showed her, thanks for that Maddy's  beautiful ace, wearing a proud smile of her gorgeous face was  a delightful part of today's match.
Because of that is that we are looking forward to know more about her.. so what do we know about Madison McKinley??
Born and raised n Dallas Madison or Maddy is currently studying fashion in New York at Parsons The New School for Design, when she is not a fashionista she is watching John's tennis matches just we  just saw her at Indian Well's Masters where Isner defeated Novak
Follow Maddy on Twitter here .
Scroll down for Maddy pics and video below.