Meet Melissa Lagarra
Melissa Lagarra is the lovely girlfriend of NFL player Jordan Todman. The 25-year-old running back for the Pittsburgh Steelers will be facing the Cincinnati Bengals on Saturday's NFL Wild Card Round.
Todman has had a little bit of rollercoaster in his career. The Dartmouth High grad went from New Bedford to Dartmouth. Then to UConn. A stop in San Diego, where he was drafted. He played a season in Minnesota. Next stop, three years in Jacksonville and a preseason in Carolina before arriving to the Steelers family last year.
Jordan was drafted by the San Diego Chargers in the sixth round of the 2011 NFL Draft. The 5-foot-9, 200-pound player has been described as being "too small" to be an every-down running back, something that its said could have played in his sudden exit from the Panther's.
Todman's time as a Panther was short-lived; he was cut on Sept. 5, just five days before the start of the 2015 season. Despite the drama of leaving Carolina, Todman has shown that he's a good player.
He rushed for 1,574 in his final season at UConn, earning Big East Offensive Player of the Year. He put in time on the Chargers' and Vikings' practice squads before getting his first big break in Jacksonville, where he amassed 450 yards and three touchdowns on 111 carries, including an average of 5.8 yards on his 32 carries in 2014. Todman also averaged 25.6 yard per kickoff return last season, sixth in the NFL.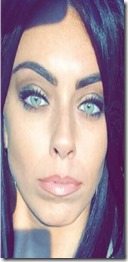 And things just seen to be getting better for the New Bedford, native. We are talking about his family life.
Melissa Lagarra and Jordan definitely are tight. Todman is already a daddy to his daughter Chloe, his precious little girl born from his relationship with Megan Lambert who gave birth to little Chloe two years ago.
Now, according to a bump registry, Melissa Lagarra could be pregnant with the couple's first child. Her due date is set to Mar 22, 2016.
According to a profile on Explore Talent, Melissa Lagarra is 28-years-old and is originally from Acushnet, MA. She is or was pursuing an acting and modeling career. She is 5'7″ and her green eyes sure make her model material, don't you think?!
Unfortunately not much more is known about lovely Melissa Lagarra. However, it seems that she likes it that way. Jordan often posts photos of the couple with sweet messages to his pretty girlfriend.
Jordan Todman Melissa Lagarra welcomed their daughter in March, 2016.
You can find Melissa Lagarra on Twicsy here.