Monica Culpepper
Monica Culpepper is the proud wife of former NFL player turned lawyer, turned reality TV contestant, Brad Culpepper. Wife and husband are both Survivor veterans and Monica's man is set to appear in the upcoming season 34: Game Changers.
Monica's husband was born John Broward Culpepper on born May 8, 1969. The Florida native is a retired NFL player who  following an All-American career at the University of Florida, was selected in the 10th round of the 1992 N.F.L. Draft by the Minnesota Vikings.
He suited up for the Minnesota Vikings, Tampa Bay Buccaneers and Chicago Bears. Brad was a Sports Administration major at the University of Florida. He obtained his J.D. in 2001 graduating with honors.
Brad who grew up in a stilt house on Dog Island in the Gulf of Mexico –played nine seasons during the 1990s and early 2000s as a defensive tackle. Since his retirements, Brad has spent the last 16-years as a trial attorney.
He currently works for the Culpepper Kurland law firm in Tampa, Florida.
After 5 years of working at Morgan & Morgan, P.A., Brad opened up his own law firm, Culpepper Kurland, in March of 2007.
He along with Brett Kurland founded the firm after gaining a wide variety of experience. According to the website, they formed Culpepper Kurland to be able to deliver the personalized attention and precise legal services they firmly believe their clients deserve.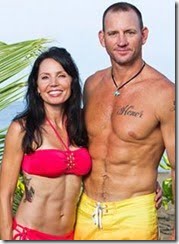 46-year-old Monica Culpepper is a former NFL Wag, mom, homemaker and most recently reality TV contestant.












Monica Culpepper was born Monica Frakes. She attended University of Florida –where she was named Homecoming Queen-in 1991. She graduated with Honors from University of Minnesota Physical Therapy School.
She met her then future husband while she was a sophomore. Just weeks after her husband was drafted into the NFL in 1992, the couple tied the knot.












Since their nuptials they have welcomed three children. Her oldest son, Rex, played college football at Syracuse.
Monica Culpepper is a former Survivor contestant. She was casted for the 24th season of the CBS reality television show.
In 2013, for season 27th of the show, Monica and Brad participated together, Brad came in 15th place while Monica was the season's runner up.
When asked, what was the reason she returned to the show to play with her husband, she said
I wanted the chance to redeem myself from my early exit on One World and there is no better way to do that than with the love of my life and lifelong tribe mate, Brad. He's my guy and having my "shield" out there is an adventure in itself.
In 2015, her husband faced a lawsuit in which he was accused by his insurance company of giving false information to doctors.
Monica Culpepper will surely bee cheering for her hubby during the upcoming season of Survivor.
She and her husband currently reside in Florida.