Ray Elbe Wallace
Ray Elbe Wallace is the boyfriend/trainer currently dating Strikeforce Women's Lightweight Champion, Cris Cyborg.
His aggressive Muay Thai fighter girlfriend will be doing her thing at UFC Fight Night 95.
Cris Cyborg made her UFC debut last May and is ready for action tomorrow. Cristiane Justino Venancio Santos, was born, July 9, 1985; in Brazil.
She is undefeated since turning pro. Cristiane won the Strikeforce Championship title on August 15, 2009 by defeating Gina Carano via TKO.
She is also the #1 ranked pound-for-pound female MMA fighter in the world by MMARising.com. The 31-year-old has been fighting professionally for over a decade.
According to her UFC page, she is interested in returning to college after her career is over. Cris who is very close to her religious teachings, is an animal lover.
As for her personal life, we know she was previouly married and that she is currently in a relationship with former fighter Ray Elbe Wallace.
Ray Elbe Wallace who is best known as Ray Elbe is a four time MMA Champion and BJJ Black Belt who won a Silver Medal at the 2012 IBJJF Nogi World Championships.
Elbe has competed in 10+ countries as a professional in either BJJ, MMA, Muay Thai, or Muay Thai.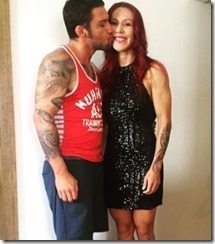 Cris Cyborg is the wife of former PRIDE superstar Evangelista "Cyborg" Santos who is also a member of Chute Boxe. She took his nickname and they split in 2011.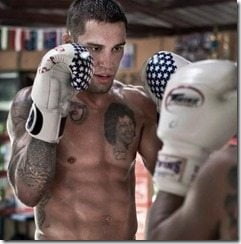 As for her new beau, we have lots of info, ready?
Ray Elbe Wallace "MagicalRay" was born December 9th, 1982. He began training in Mixed Martial Arts while attending Grand Canyon University in Phoenix Arizona. He holds a degree in Elementary Education.
Ray spent his nights training to become a professional athlete. He debuted professionally in 2002.
He is trained in Brazilian Jiu Jitsu Techniques.
In March of 2007, Elbe relocated to Phuket Thailand to develop the first Mixed Martial Arts program in the country.
Accoridng to his website, Elbe helped pioneer the sports of MMA and BJJ within Southeast Asia, Professor Elbe successfully promoted 50 consecutive amateur MMA events with the creation of Tiger Muay Thai's now infamous "BBQ Beatdown".
In 2012, Elbe again helped Southeast Asia achieve another combat sports milestone. During a 6 month teaching opportunity
he developed the White Belt Fury Grappling competition. That became the first Nogi BJJ competition to ever be held in the country of Malaysia.
Elbe is also known for a rather embarrassing episode. In 2012, while working in Kuwait, it was reported he broke his penis in a bizarre sex accident. You can read the full ordeal –which is explained by Ray himself, here.
Through social media images, Ray and Cris can be seen training together. It is not when the couple began their relationship.
You can check out Ray Elbe Wallace on Twitter here.