Rosanna Colon
Rosanna Colon is the lovely wife of MLB star, Bartolo Colon. Her husband of over two decades made headlines after he hit his first home run at age 42. Colon is the oldest active player in MLB, he currently plays for the NY Mets.
Bartolo Colon was born born May 24, 1973 in DR. Nicknamed "Big Sexy" he was signed by the Cleveland Indians as a free agent in 1993. In 2002 he was traded to the Montreal Expos. He is the only active player to have played on the Expos.
The following year he was traded to the Chicago White Sox. A free agent after the season, he signed with the Anaheim Angels. Colón won 18 games with Anaheim in 2004. During the 2005 season, he went 21–8 with a 3.48 ERA, and became the first Angels pitcher to win the Cy Young Award since Dean Chance in 1964.
On February 25, 2008, Colón signed a minor league deal with the Boston Red Sox. He then signed a minor league deal with the New York Yankees on January 26, 2011.
In 2012 he agreed to a one-year, $2 million contract with the Oakland Athletics. In 2014 Colon signed a two-year, $20M deal to join the Mets after putting up two stellar seasons with the A's. Colon was crucial for the Mets in their run to the World Series last season, as a postseason reliever.
Colon has recorded over 200 wins and 2,000 strike outs during his 20 seasons of play. He is the recipient of the Cy Young in 2005 and has been elected to the All-Star team three times over the course of his career. He signed a $7.25million one-year contract with the Mets last year.
Colon has been known to praise his wife and children during interviews in the past. When asked last year, "what drives him" he answered: "'My family and my kids and wife.'
Rosanna Colon gives 'support' a whole new meaning. She has literally known Bartolo since the age of 13, as they both grew up in the Dominican Republic. She was born Paula Rosanna Vargas.
Is safe to say this lady has been influential in the career of her man. She officially became Mrs. Colon in 1996.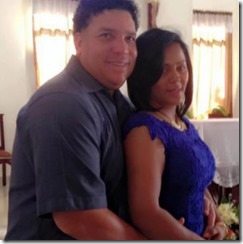 Colon, 42, has been married to his wife Rosanna for over 20 years, together they are the proud parents of four sons: Bartolo Jr., Emilio, Wilder and Randy. (below)
The couple has been through a lifetime together, and even became US citizens on the same day, he posted a photo of the couple celebrating the happy September 2014 occasion, to his Facebook account.
Most recently the 20 plus years marriage will have to face Bartolo Colon's cheating. News broke about Bartolo being the father of two elementary-school-age kids with former mistress Alexandra Santos.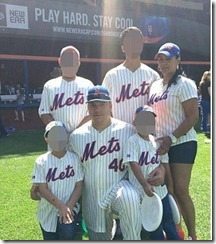 Rosanna Colon resides in Clifton, New Jersey with her famous hubby and their four sons. About the news her hubby fathered  a son and a daughter with Alexandra Santos, Rosanna Colon admitted to the media, she has known about her hubby's second family for some time, but she didn't give further details.
It's clear Rosanna has forgiven the right hander for his infidelity but it remains to be seen if she will handle the pressure before the public eye, now that the word is out, that the man she has been married to, not only cheated on her but has also been labeled a dead beat father to his out of wedlock, offspring and is facing a pending lawsuit.
You can find Rosanna Colon on Facebook here.