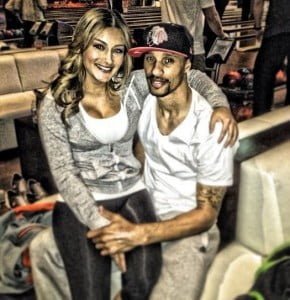 "Beautiful, Young & Bless" That is how Samantha Garcia describes herself on twitter! This girl sure looks fine to me!
Let's meet Indiana Pacers George Hill's girl, she is from Brazil! Samantha Garcia birthday is April 2, she is the lucky gal dating Hill, her hometown is Sao Paulo, Brazil and currently lives in Indianapolis, Indiana; well that makes sense that is where 27 year old hunky NBA boyfriend plays!
They both are great looking and make one hot couple! And she is really sweet, just look at one of her recent tweet dedicated to her man

   Samantha attended Indiana University-Purdue University Indianapolis (IUPUI)
The couple enjoys simple outdoor activities like fishing, like Samantha says:
It's always fun fishing with this handsome man!! Sometimes it's the simple things in life that make you happy, and he's the reason why
Though Garcia's boyfriend isn't the most well known player in the league, he's clearly the glue that keeps this team together. As point guard, he's the undisputed team leader. He showed his worth against the Knicks last series: the point guard was out with a concussion in Game five and the Pacers got scorched. He's been active in the NBA for five years and makes a whooping salary of $8 million
Samantha is the first on having an opinion when it comes to Hill's games, don't let her beautiful sweet face fooled you; let's just say she can get feisty if it comes down to that!  She recently posted on Facebook:
These Miami refs are some bull***!!! F** pricks, same as last year!!!!
Well, you know how it it when a girl is in love! What can we say, you go girl!
You can follow her on twitter here and Facebook here.