NBA WAG Kishele Shipley!
Kishele Shipley is the girlfriend of the San Antonio Spurs wingman Kawhi Leonard,  the young NBA star player from Riverside, California who has become of the most dangerous and spectacular players in the NBA. Spurs fans loves him, his family certainly adore him too and his lady Kishele Shipley feels incredible proud of him.
Leonard, NBA's 2014 Most Valuable player (MVP), and NBA Defensive Player of the year in 2015 was born in Los Angeles, California. He started playing basketball while he attended Canyon Springs High School, and then at King High during his junior year. Leonard graduated from San Diego State where he also gained notoriety in the basketball court.
In 2010 he was named Mountain West Freshman of the Year. Mountain West Tournament MVP, the following year he made into the All Muntain West All-Tournament First and Third Team, he was also named All-Mountain West Defensive Team.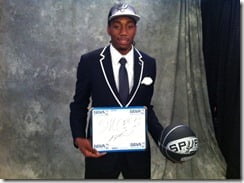 Kawhi was selected by the Indiana Pacers with the 15th overall pick in the 2011 NBA draft. Indiana traded him to the San Antonio Spurs along two more players in exchange for George Hill. Kawhi has continued to renew his contract with the Spurs, the final deal came in July, 2015 when re-signed a five-year deal, $90 million contract.
Leonard who hosted his first Annual Youth Basketball Camp in 2012 in San Diego, California.,
"I went for two years and haven't gotten my degree yet, right now I'm not taking classes but hope to finish in about three-years when I'm established in the league, we'll see what happens."
Kawhi Leonard's has been keeping his relationship with girlfriend Kishele Shipley a secret in order to protect  her, but when you are dating an athlete like Leonard there is no escaping the media much longer. So here is what FabWags can tell you about NBA WAG Kishele Shipley!
Kishele M. Shipley, 26, was born April 10, 1989 in San Diego, California to Cathy Marie Shipley (nee. Coleman) and Kenneth Shipley, proud father of Kishele's sister Kasandra, 21, and Kenisha, 27. Mr. Shipley a San Diego University can be seen posing with Leonard's MVP award in the photo below, the photo next to that shows Kishele and her beautiful family.
According to reports Kawhi a SDSU graduate met is girlfriend Kishele while he was living in San Diego, after he was selected by the Spurs, she relocated to Texas.
Kishele Shipley graduated in 2012 with a degree in public administration from San Diego State University. She worked as a Human Resources professional in San Diego.