Stephanie Tuccitto
Stephanie Tuccitto is the young tennis WAG dating tennis player David Goffin, the Belgian tennis player who has defeated hing-ranked tennis players like Jo-Wilfried Tsonga, Tomas Berdych, John Isner, Milos Raonic and Stan Wawrinka to name a few.
Stephanie Tuccitto's tennis stud, David was born in Rocourt, Liege in Belgium on December 7, 1990. Goffin turned pro in 2009, his breakthrough came in 2012 when he reached the fourth round at the US Open before falling to Roger Federer. He reached the third round of the US Open in 2013 and 2015, fourth round of the Wimbledon in 2015 and of the 2016 Australian Open, he also reached the quarterfinals of the 2016 French Open, he lost in four sets: 4-6, 7-6, 6-4 and 6-1 to Dominic Thiem. David holds two career titles, he defeated Dominic Thiem in the 2014 Austrian Open in three sets and Joao Sousa in two seta at the 2014 Moselle Open in Metz, France.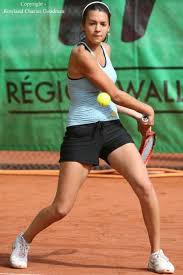 David Goffin has been dating Stephanie Tuccitto for almost four years now. The pretty brunette who was once a tennis player herself was born in Belgium on May 12, 1991. She no longer plays professionally, Stephanie studied communications at the Universite de Liege in Belgium.
You can follow her on Twitter here