Susan Deboer
Susan Deboer is the lovely wife of NHL coach, Peter DeBoer. With more than 20 consecutive season as a head coach, Peter Deboer is currently coach for the San Jose Sharks.
Susan's husband was born June 13, 1968 in Dunnville, Ontario; a small farming town on the north shore of Lake Erie about 45 miles west of the U.S. border at Buffalo, N.Y. His father worked in a nearby steel factory and his mother was an X-ray technician at a hospital in Hamilton, almost an hour's drive away.
He attended both the University of Windsor and the University of Detroit and holds a law degree. He was the 237th player taken in the 1988 draft by the Toronto Maple Leafs and spent three years as a minor league forward with the Milwaukee Admirals of the International Hockey League.
He later had to decide between taking a job in corporate law or joining Maurice's staff on the Detroit Junior Red Wings, but it was a no-brainer.
The former player turned coach, spent three seasons as head coach of the Florida Panthers. In 2008-09, his first season as an NHL head coach, he coached the Panthers to their then second-best season in franchise history with 93 points, posting a 41-30-11 record.
In 246 games coached with Florida, DeBoer posted a 103-107-36 record.
He then went on to coach New Jersey. In 248 games coached with New Jersey, DeBoer posted a 114-93-41 record. He ranks as the second-most winningest coach in Devils franchise history.
In May 2015, Peter Deboer was named the eighth head coach in Sharks franchise history. According to his profile, he serves at both the NHL and Canadian Hockey League levels. Peter was fired by both teams, DeBoer took being fired by the Devils hard but said he had no thoughts about retiring from coaching. He wanted to coach again in the NHL as soon as possible.
He did get to spend more time with his wife and three children after being fired instead, he helped coach his two sons' hockey teams.
Then in May, DeBoer was an assistant under McLellan for Canada, which won the IIHF World Championship in the Czech Republic.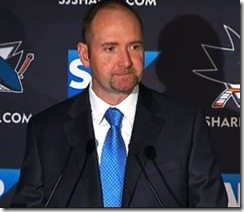 Susan Deboer and her hubby have been married for over 20-years. Susan Deboer, known as Sue DeBoer, is also the mother of the couple's three children, two boys: 15-year-old Jack and 13-year-old Matthew; and one daughter, Abigail, "Abby" who is 16-years-old.
Her son, Jack is a sophomore playing for Salisbury School in Salisbury, Connecticut and is committed to play for Boston University in 2018.
Susan Deboer had never been to California until 2014 summer, when she and her family vacationed in the Sonoma wine country with longtime friends.
At that moment, according to the mercucrynews, Susan Deboer never imagined that 'gorgeous' California would be the next stop in the family's hockey journey.
She told about being married to a NHL coach: "His wheels start spinning and it's August and you know that training camp is around the corner and he's off and in a different world."
Not much more is known about Susan Deboer but as she still keeps on finding her way in sunny California, we don't want to miss her hubby in action.