Welcome to FabWags.com. Wives and Girlfriends of today's top Athletes . We feed the hunger for sport's pop culture content, covering  Football, Soccer, Baseball, Basketball, Tennis, UFC and Extreme Sports. Enjoy!!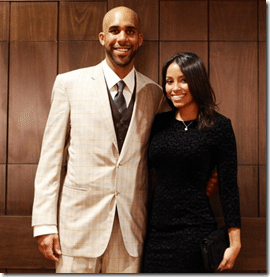 That classy gal on the picture is Tiffany Nicole, the girlfriend of Tampa Bay Rays pitcher David Price. Nicole and her 28-year-old boyfriend seem to get along more than just ok, the hot couple even think alike when it comes to the Boston's Red Sox.
Tiffany hasn't made the best of impressions, unfortunately for her, she made the headlines just a few weeks ago when she went off on Fenway fans.
She did not apologize for her comment, like Price did and instead during Boston's game 2, Nicole went to Twitter to announce to the world just how awful everyone from Boston truly is saying:
@MsKansasState: Convinced that there must be a written rule that in order to be a Red Sox fan, you have to be a complete and utter POS. Wow!. – 5:55PM, October 4. 2013

@MsKansasState:: Wow he pimped the crap out of that homerun. #KeepItClassyBoston – 8:37 PM October 5, 2013
Other than her Twitter meltdown, Nicole is a very good looking gal. Her boyfriend Price, began playing baseball in his early childhood. He grew up as an Atlanta Braves fan and idolized outfielder David Justice. As a teenager, he was a stand out on the Blackman High School baseball and basketball teams.
On twitter she writes about herself
K-State grad… Big city smart. Small town friendly. Mother to two barking boys who are nothing less ? than perfect.
Tiffany is truly smitten with her dogs, she has posted more than a few pics of the odd pair, so is safe to say she is an animal person. The HuffPost reported Tiffany's man is giving away some free and unsolicited advice during the holidays, twitting a rather "what were you thinking" comment
Everyone thats traveling for thanksgiving please be careful! Driving conditions will be rough with these storms! Ladies..let ur man drive!
Wonder what "Big city smart" Tiffany's take is on the not so considerate thought? Is safe to say the couple deserve each other, don't you think? Would we here another apology from Tiffany's man?
You can follow her on Twitter here.
Related posts: