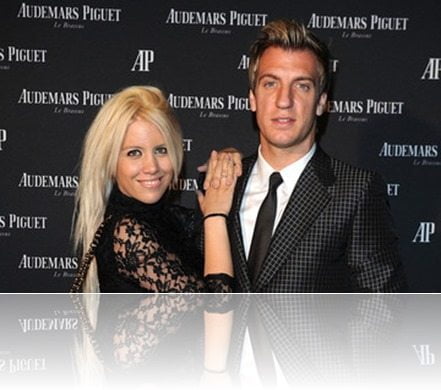 Meet Wanda Nara, she is the sister of the hot Argentine model Zaira Nara, Both sisters are pretty darn sexy, but taken unfortunately, Wanda's sister Zaira  dated Uruguayan soccer player Diego Forlan, and is currently dating another soccer player Pablo Mouche, and Wanda is married to Maxi Lopez the Argentine soccer player currently with the Italian soccer club Calcio Catania, however we heard that Wanda can soon be available since she filed for divorce. Want o hear the rest?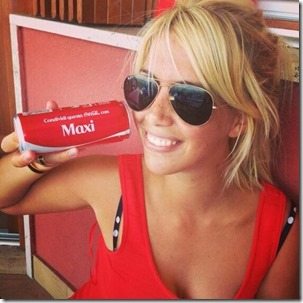 27-year-old model and showgirl Wanda Nara aka Wanda Lopez was born on December 9th, 1986 in Argentina to Andres and Nora Colosino Nara, has one sister Zaira, 25.
Wanda became known for her role as a showgirl in the Theatrical play Humor en Custodia in 2005, a year later he name was in every Argentine paper for the alleged affair she claimed to had had with the legendary Argentine soccer player Diego Maradona, however he denied it.
Wanda was once again in the middle of a scandal when a porn video of her emerged in 2007, Wanda said she was not the woman in the infamous sex video called Wanda Nara Sexo oral or El pete de Wanda Nara , her claims were later contradicted when she begged Argentine media that the video was not broadcast. FYI she failed!
Wanda Nara and Maxi Lopez got married in Mallorca, Spain on May 23, 2008, Wanda gave birth to her first child Valentino Gastón López on January 25, 2009, her second child Constantine was born on December 19, 2010, on February 20, 2012 Wanda Nara gave birth to her youngest son Benedicto.
In November 2013, Wanda confirmed she and Maxi decided to part ways, media suggested the reason d their breakup was because one of them was involved in another relationship, both Maxi and Wanda denied the rumors.
Argentine media reported Wanda was dating the 20-year-old Argentine soccer player currently with Inter Milan, Mauro Icardi who is a friend of Maxi,, this young man declared his undying love to Wanda via his Twitter account, where you can find several photos of him and Wanda. Both have matching tattoo, Wanda has Mauro's name on the inside of her wrist while Mauro has Wanda's name on one side of his forearm.
It was reported that he divorce papers stated that Maxi agreed to pay 12 thousand euros per month to his soon to be ex-wife Wanda Nara, the amount was not considered to be enough for her to continue to live in Italy and sources close to her aid the amount is much higher, It is expected the divorce will be finalized by February.
Follow Maxi Lopez' wife Wanda Nara on Twitter here