Is Left-handed pitcher for the Los Angeles Dodgers Hyun-Jin Ryu dating anyone? Come on girls, his name might not be the easiest to pronounce but the 26-year-old who became the first player after seven seasons with the Hanwha Eagles of KBO to join a MLB team via the posting system, sure deserves a chance!
It would be kind of cool to be the girlfriend or the wife of Hyun-Jin Ryu right about now; he is also the first South Korean to serve as the starting pitcher of a Major League Baseball postseason game. That not being all Ryu showed them how it's done when he got a big win, by leading the Dodgers to a 3-0 victory over the St. Louis Cardinals on Monday night.
Ryu recovered from the worst start of his rookie season with one of the best performances of his 26-year-old life. He pitched seven shutout innings to best Cardinal ace Adam Wainwright and kept Dodgers from going down three games to none. PS: Only four starting pitchers in Dodgers history have thrown seven or more scoreless innings in a postseason game and allowed three or fewer hits!
And this is still his MLB debut year.
But getting back to his love life; the lucky lady dating him knows his man was selected to his seventh consecutive All-Star team, going 9-9 with a 2.66 ERA in 27 starts with Hanwha of the Korea Baseball Organization. Picked up his fifth KBO strikeout title, fanning a career-high 210 hitters in 182.2 innings.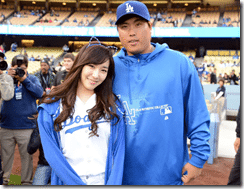 A few months back The team had asked South Korean group called Girl Generation to throw the first pitch at a game, and Tiffany was there as a representative of the group. She is a a fellow South Korean star and visited to throw a ball at Dodgers Stadium. Ryu is said to be a fan of the girl group and the two of them were seen bonding and chatting.
They do make a nice couple and they both live in L.A. But no leads on Ryu's romantic status just yet, maybe he has someone special back in South Korea?
You can follow him on twitter here.