Pablo Sandoval
Pablo Sandoval has a new lady in his life in fact, they recently became parents. The latest girlfriend that has been linked to MLB star, Pablo Sandoval is yet to be identified.
The 30-year-old player was born Pablo Emilio Juan Pedro Sandoval, Jr. He began his minor league career at the age of sixteen in 2002.
The MLB third baseman was named World Series MVP for the San Francisco Giants in 2012. That same year he became the recipient of the Babe Ruth Award.
Sandoval helped lead the Giants to World Series victory in 2010 and 2014. After the 2014 season, he signed a 5-year contract with the Boston Red Sox.
His career, however, hasn't been the same since. The two-time All Star played just 161 games in two-and-a-half injury-plagued seasons for the Sox. In 2016 he was said to be out of shape eventually losing his starting third base job to Travis Shaw.
The Venezuelan born known as Kung Fu Panda, has been cut off by the Red Sox.
His romantic life also appears to be a bit of rollercoaster. He was linked to a blonde by the name of Dubcy Romero. Prior to Romero coming into the life of the MLB player, there were a couple of other women. In fact, Sandoval a bit of a ladies man, was actually a married dude.
Sandoval and his first wife Yoletzade Sandoval welcomed one child during their marriage. Daughter Yoleadny was born in 2009 but unfortunately the marriage ended in divorce 2010.
Following his divorce, Sandoval was linked to a sexy Venezuelan actress identified as Vanessa Soto. According to Fabwags, Soto and Sandoval were an item but are now ancient history. In 2014 was Budcy Romero. But now make room for Pablo's new gal.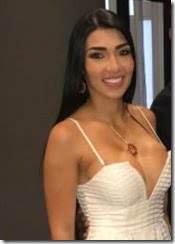 Miss Romero and Pablo have been dating for some time. Dubcy and Sandoval were first romantically linked in 2014.
He has been posting photos of the hot blonde on instagram. Obviously not hiding his feelings from the world.
Romero is a sexy Latina who hails originally from Peru. According to social media profiles, she attended Nuestra Senora de Fatima and later graduated from Diablo Valley College in Pleasant Hill.
The California resident currently works at the Academy of Art University.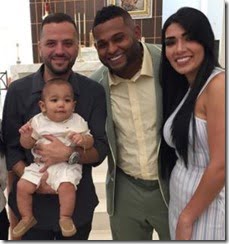 Fast-forward to 2017, he and his mystery brunette are the proud parents of a baby boy, pictured above on the day of his christening.
You can check out the lovely brunette only known as Miss Panda on Instagram here.