Charissa Thompson
Charissa Thompson one of the sexiest reporters in sports has been working for Fox Sports and NBC since 2013. Charissa Thompson has been married, dated former basketball player Jay Williams and had a flirty interview with New England Patriots tight end Rob Gronkowski. But who is Charissa Thompson's new boyfriend? or is she still single?
Sexy Charissa Thompson born Charissa Jean Thompson on May 4, 1992 in Seattle, Washington. She attended Washington State and community college in Cali before transferring to the University of California, Santa Barbara where she graduated in 2004 with a degree in Society and Law.
Charissa's first job was at FSN, she hosted the Baseball Report and the 2007 MLB-All Star Game red Carpet Parade, she was the sidelinereporter at Shaw Vs. in 2009. In January, 2010 Charissa became a sports reporter for ESPN, after her short-lived job at ESPN she joined Yahoo Sports, before returning to ESPN in July, 2011.
In July, 2012 Charissa Thompson joined NBA replacing Michelle Beadle, the following year she took sometime to join actor Joey Lawrence co-hosting ABC's competition show Splash, she also co-hosted Extra with Mario Lopez and Tracy Edmonds. In June, 2013 Charissa became the sports reporter for Fox Sports 1 where she hosts Fox Sports Live.
Charissa Thompson said she was 25 when she got married. The experience was the best and worst she made; she also said once that the reason her marriage failed was because she was never home.
Oh, yeah, at 25. It was the best and worst decision I ever made. I learned quickly that I don't need to be married again, but there are people who come into your life for a reason. I love my ex-husband and it has taken us a long time to get back to being friends. I went to break up with him one night when we were going out. He recognized it and said, "Are you going to break up with me?" I said, "Yeah, it's not working out." Well, I ended up walking out of that restaurant, drove to Hollywood, got a tattoo on my finger and got married that Saturday. That was me literally living in the moment and thinking, "Maybe he's right, maybe I am always running away from relationships. Sure, lets get married." Whoops

If we're being honest, my first marriage failed because I was doing this job and I was never home and I couldn't allocate relationships with my boyfriend. There are a lot of things that you put on the back burner because of your profession, so for me, I would say to anybody who wants to do this: Do it because you love it, and realize you'll have to make sacrifices along the way. But if you really want to, it's the most rewarding, awesome job you could ever have.
Charissa Thompson did find love again, the lucky guy was Jay Williams, the former basketball player at Duke University, he was selected with the second overall pick in the 2002 NBA Draft by the Chicago Bulls, for sometime everything seemed awesome for Jay Williams, but everything turned the total opposite when he was involved in a horrific motorcycle accident in June, 2003.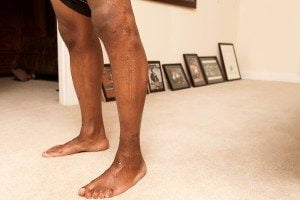 Jay Williams crashed his Yamaha R6 in Chicago, he was not wearing a helmet, he fractured his pelvis, severe damage to a nerve inches leg and dislocated three ligaments in his knee. The crash ended his career with the Bulls who after it became clear Jay was not going to come back to the team drafted Kirk Heinrich and waived Williams. Jay played for a short period of time with the New Jersey Nets in 2006 and the Austin Toros. Jay Williams retired later that same year.
He got a place in the NBA, as a college basketball analyst for ESPN and CBS College Sports Network. He also finds a way to turn his misfortune to help others as a motivational speaker.
So Jay Williams started dating the sexy Charissa Thompson in 2013, while she worked at ESPN, they split up last year, but photos of them together on their Instagram account suggest they may have rekindled their relationship.
Charissa Thompson has interviewed NFL tight end player Rob Gronkowski twice or even three times, at least two of their interviews have been such a flirt!
For example, their interview last January was the topic on everyone's mouth for weeks.
Follow Charissa Thompson Twitter here
More of Charissa Thompson and Jay Williams' pics below