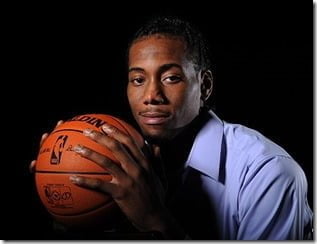 San Antonio Spurs wingman 21 year-old Kawhi Leonard might be a little quiet but that's because he lets all the action to speak for him on the court! The young star baller from Riverside, California has turned out to be quite an awesome player who nedia believes will be the one player to stop LeBron James from scoring for Miami; Leonard plays nastier defense than a pawn-shop dog.
Leonard has become a bankable 3-point corner shooter, in the classic Spurs style. And he's one of the big reasons the Spurs are in the NBA Finals, beginning Thursday in Miami! Taking notes?
This young man is sure one to watch, he's been through really tough times losing his father back in 2008 to a gun shot! For a really long time he wanted to know who did it but he had to let it go in order to focus on his game. His father was truly an inspiration for him and is surely one of the fuels on his great technique! But his greater asset might just be how humble he is! His entire rookie year, he drove a Chevy Malibu. This year he finally bought a Porsche. But he still drives the Malibu more. "It gets good gas mileage," he tells incredulous friends.
Any girl would be lucky to date him! And that is why we wonder who is the girl in Kawhi Leonard's heart? Is he dating? Single? Who is Kawhi's girlfriend? Wife??? As far as we know he is single and very much available, unless he and his secret girlfriend have managed to keep their relationship a secret.
Leonard who hosted his first Annual Youth Basketball Camp last year in San Diego, California., is still a student from SDSU saying:
"I went for two years and haven't gotten my degree yet, right now I'm not taking classes but hope to finish in about three-years when I'm established in the league, we'll see what happens."
He is certainly well on his way for that, could it be he's hoping to know some girl in college?? Or is someone already on his mind?? Well ladies be aware you have a special guy here, you have an MVP!
You can follow the talented baller on twitter here.