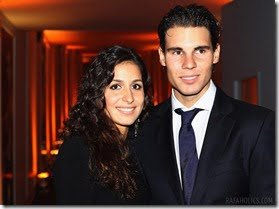 Rafael Nadal's long term love is Xisca Perello. The couple has been dating for quite some time and Xisca has captured the hearts of people around the world.  It was first revealed years ago during the Wimbledon Championships that he was dating a girl from his hometown of Majorca.
The fortunate girl is Maria Francisca Perello, more commonly known by her nickname "Xisca". She was born on July 7, 1988.
The 25-year-old studied business administration in Palma de Mallorca and then travelled to London to study business management and English. Xisca was previously employed at Mapfre, a Spanish company that is one of Nadal's many sponsors. In October 2012, she was appointed the Director for Social Integration of Rafael Nadal Foundation.
Nadal never talks about his girlfriend to the media. Reportedly, they have been dating since December 2005! The couple met in school while growing up in Majorca. Maria has been described as "a straightforward no-nonsense girl not interested in glamour and fame."
The couple was spotted last month in Cozumel, Mexico. The 26-year-old tennis pro recently returned after taking seven months off for a knee injury. This month, Rafael will be playing in the BNP Paribas Open in Indian Wells, California.
Find Xisca on Facebook here. Her Facebook fan page here. Look at her Tumblr profile here. Follow Nadal on Twitter here.