Central defender for Real Madrid Képler Laveran Lima Ferreira or "Pepe" as he is known for met Ana Sofia in 2007 in Porto when he played for FC Porto and when she was studying at the local university. She studied medicine and joined Pepe in Madrid after finishing her studies in Portugal.
The 30 year old soccer player has said that she provides great support for him and keeps him grounded. And although out of wedlock, the couple have a daughter who was born on August 27th, 2012. Ana Sofia gave birth to a baby girl, who is in good condition, at 9.00 pm in Madrid.The Brazilian born defender left training to see his daughter birth. The lovely couple currently live in Madrid.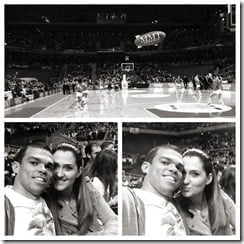 Pin
We can see from the pictures the couple enjoys their time together whether outdoors at the beach or other sports besides football! They also enjoy basketball games and hit the court when they get a chance!
You can follow her on twitter here. And Facebook pictures here.