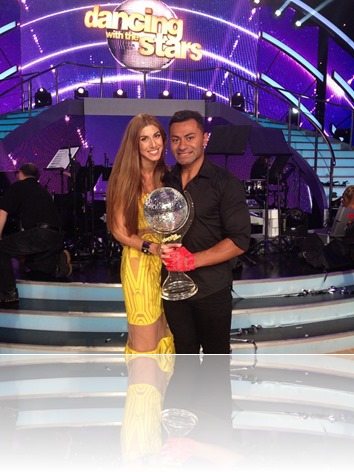 Carla Rodan was ecstatic when her husband former  AFL player David Rodan was crowned the winner of the 14 season of Dancing With the Stars in Australia.
Rodan, 31, teamed up with professional ballroom dancer Melanie Hooper, defeating Home And Away's Lynne McGranger and pop diva Ricki-Lee Coulter on Tuesday night to take the glitter ball title.
As we all know Daviid has been happily married to his beautiful, loving and stylish wife Carla Rodan for nearly six years, they have three gorgeous sons together, Tevita, 5, Maikeli, 3,  and Tomasi, 1.
Carla has an exquisite sense of style, she has created a fashion blog focus on her boys called "Styling The Tribe" you can check that out on her fashion blog here.
Mrs. Rodan grew up in Melbourne, she holds a BAppSc and Dip Ed majoring in Physical Education, after that she  spent 5 years teaching Phys Ed and Science in Secondary colleges.
Carla Rodan and her hubby are today fully devoted to their family.
You can follow her on Twitter here.