Carolyn Brown
This lovely lady is Carolyn Brown; the stunning, loving and caring wife of NBA coach Mike Brown, who is currently the assistant coach for the Golden State Warriors.
He replaced Luke Walton after he became the Lakers' head coach after the 2015-2016 season. Prior to signing with the Warriors, Mike Brown was the head coach of the Cleveland Cavaliers and the Los Angeles Lakers.
Carolyn's hubby was born in Columbus, Ohio, however, he spent most of his childhood in Germany; where he attended Wurzburg American High School. After he returned to the US, he enrolled at Mesa Community College, before transferring to the University of San Diego from where he graduated with a bachelor of business administration in 1992.
His first job was the assistant coach for the Washington Wizards in 1997, then in 2000 Greg Popovich hired him and three years later joined the Indiana Pacers. In 2005, became head coach for the Cavaliers replacing Brendan Malone.
Dan Gilbert fired him on May 24, 2014, so he got a job with ESPN as a studio analyst and then assistant coach for Westlake Lee Burneson Middle School where his son was a student at.
Agreed to a three-year- deal with the Los Angeles Lakers on May 25, 2011; but in November 2012, the Lakers fired him after dealing with changes with personnel and system leaving them winless. He returned to coaching the Cavaliers on April 24, 2013; unfortunately, a series of injuries and an embarrassing losing record got him fired once again by Mr. Gilbert on May 12, 2014.
RELATED STORY: STEVE KERR'S WIFE MARGOT KERR 
Two years passed until the Golden State Warriors came to his rescue on July 4, 2016, naming him their assistant coach.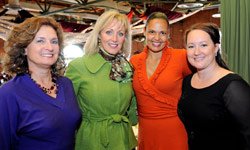 Pin
Mrs. Brown formerly known as Carolyn Nancy Mossman was born on June 23, 1970; she and coach Brown tied the knot in Colorado in 1995. Nowadays they are the proud parents of two handsome and amazing sons; Elijah and Cameron.