Meet model Chalyce Moore, NFL Hall of Famer Warren Sapp's girlfriend –whom he allegedly assaulted earlier this year!
The 42-year-old is currently facing charges with three counts of domestic abuse.
Chalyce, who's been in a relationship with Sapp for the past five-years says the 6 ft 2 in, former defensive tackle got violent while at the exclusive casino hotel in Las Vegas, back in April.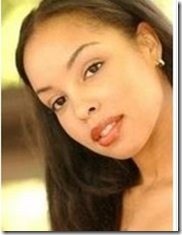 Reports say the couple were arguing when Sapp allegedly threw a margarita cocktail in her face at the resort's swimming pool.The report also says security footage showed Sapp aggressively pull on Moore's arm inside the resort, causing her to lose her balance.
Chalyce then told police the arguing continued during the drive home and at her Las Vegas condo, where she claims Sapp proceeded to bit her middle finger and also said he had stepped on the right side of her face, at some point during the heated moment.
Is not the first time Sapp –a father of two from his marriage to Jamiko Vaughn –is in trouble with the law; in fact he has a long list of legal trouble; most recently he was arrested on February 2 this year for assaulting and soliciting a prostitute during the Super Bowl weekend –which got him fired from his gig as an NFL Network analyst.
32-year-old Chalyce Yvette Moore is originally from Arizona, she attended Grand Canyon University. Not much is known about lovely Chalyce, she is described as a model and actress, she is 5'7″ and has dark-brown hair and brown eyes.
Check out her explore talent profile here.