Chris Rodstrom
Chris Rodstrom! What a classy lady! She has been married to current team president of the Miami Heat since 1970! Let's see what else can we find out about her! Having been married for 43 years to accomplished professional NBA coach gives us an idea of the ride the two of them have had!
The two discovered their mutual passion in 1968, when they were introduced on a San Diego beach. Chris Rodstrom, the Maryland-born daughter of a Navy captain and Navy nurse, was then a junior majoring in psychology at San Diego State but dropped out of college to be the dutiful player's wife.
This lady definitely means business no wonder they have lasted this long! Bored of her "cookie queen" life as just Mrs. Pat Riley she decided it was time to completed her BA studies in 1972 and went on to earn her master's degree in educational psychology at Cal State Northridge three years later!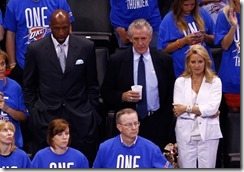 Pin
Chris Rodstrom Riley.-
Pat's 66-year-old wife, Chris, a former family therapist, gave up her career in 1981 to play Pat's personal assist leader. They make quite the dynamic duo! Chris's hubby is the first to admit he has a long list of accomplishments to be proud of; as head coach of the Los Angeles Lakers guided his team into the playoffs for six straight years. His lifetime winning percentages in both the regular season and the playoffs are tops in the history of the National Basketball Association. But surely he had the love and support of his blond, blue aye wife.
When working together Chris used to have her perch located across the Forum from the Laker bench, so she could take in the action on the floor and keep an eye on her husband at the same time.
"If I didn't love basketball it would be tough," "But I'm lucky enough to love it."
But the love and passion for the sport is not all they share; Chris and hubby also have a special bond! These two souls are huge fans of Bruce Springsteen! But getting back to the sport Chris was definitely her husband's rock when in the middle of the 70's he was going through a rough patch after having ended his playing career. He recalls:
She helped me tremendously,"  "She treated the whole thing as a death, which is what it seemed like. It was a period of mourning. Basketball was my whole life."
The couple have two children, James Riley and Elisabeth Riley. After a pretty rocky building years; Pat, 68 and his lovely wife are often photographed in social events together such as the Kentucky Derby; he Haute Living Hublot; the AFI Life Achievement Awards and of course NBA games.