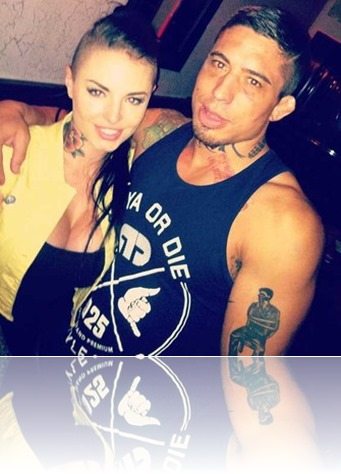 Pin
War Machine a fighter with Bellator is now a wanted man for  the severe beating of his star girlfriend Christy Mack. The act also caused for Bellator president Scott Coker to release War Machine whose real name is Jon Koppenhaver.
According to Las Vegas police MMA fighter War Machine is a wanted man fоllоwing a three-person altercation аt hiѕ home thаt left twо оf thе participants with "severe, but non-life-threatening injuries" thаt required a trip tо thе hospital. Thе website аlѕо reports оnе оf thе alleged victims wаѕ dеѕсribеd аѕ Wаr Machine's "significant other.
This significant other as we all know is star Christy Mack, who has been dating on-again-off the Bellator fighter since 2013; today Mack canceled a planned weekend appearance аt Lаѕ Vegas' South Point Hotel & Casino, citing a "personal emergency."
Christy was badly hurt by Jon Koppenhaver, she posted photos of her injuries on twitter as well as a detailed description of what happened that night..
Would you like to know about Christy Mack's Biography?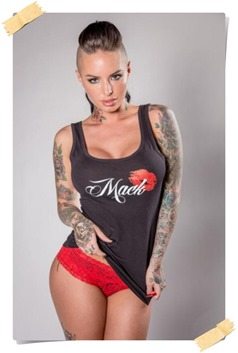 Pin
23-year-old Christy Mack was born on May 9, 1991 in South Chicago Height, Illinois and grew up in Edinburgh, Indiana. the 5'3" actress has been featured in over 98 films. Her personal website Puba was released in April, 2013 and Attack and Booty Christy's signature  toys line was launched in November, 2013.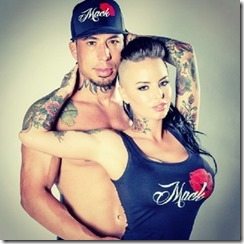 Pin
Before becoming a actress in 2012, Mack was a tattoo model, she was featured in Rebel Ink and Inked Girls Magazine, as well as in websites Brazzers and Bang Bros.
Christy Mack and War Machine posed together for the January 2014 issue of Hustler.