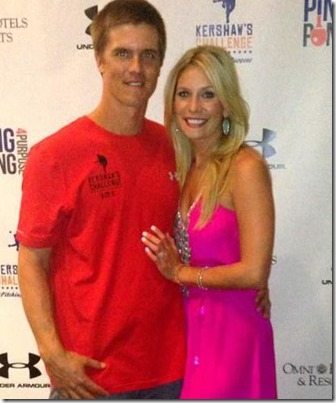 Gorgeous Emily Kuchar is the wife of MLB player Zack Greinke. The couple sounds like one of those fairy tale stories, the beauty queen and one of the league's top pitchers.
We all know behind every great pitcher/man there is a greater woman! So read below what we know about gorgeous Emily, now Mrs. Greinke.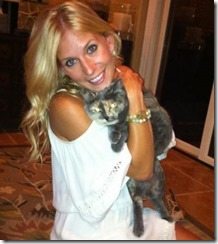 Emily attended Apopka High School in Apopka, Florida where she was born. She met Zack while attending high school. Their story begins when Emily –a library assistant –took notice of Zack, who started needing to do more homework in the library in the time Emily as there too.
While her man became a pro base baller she did her thing first in the cheerleading squad for the Dallas Cowboys! Emily also was Miss Daytona Beach USA in 2008. The cheerleader, a model and an actress tied the knot to Greinke in 2009.
That year was a great year for Zack, he didn't only marry Emily but also won the AL Cy Young Award. Emily is definitely the athletic type, she is a frequent participant in various sports, including baseball, of course, swimming, dancing, tennis and golf.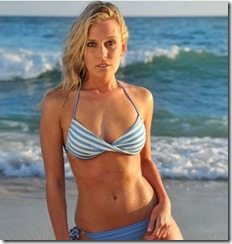 Emily has enjoyed of her own success, she certainly much more than just a beauty queen; and she is not only known for being married to a great athlete but a few years ago she graced the covers of several magazines. After the wedding she apparently decided to leave all the spotlight to her man.
After overcoming personal issues and several anxiety disorders a few seasons ago, Zach Greinke has become one of the most dominant pitchers in baseball. Greinke's mental battles have been well documented. He credits Kuchar with helping him get to this point.
Apparently the couple also share their preference of keeping things private, Emily –who is a cat lover –used to have a website with her lengthy resume and a blog but both have been taken down, and as for Zack, let's say he is not a fan of social media.
We did find a Facebook page for Emily here, Twitter here.
She and her hubby currently reside in Los Angeles. Go Dodgers! Don't miss her hubby on game 2 as the team opens their playoff series against the St. Louis Cardinals on Friday, October 3.