Kroy Biermann's ex-girlfriend, Elizabeth Seward, has declared that Kroy cheated on her wife, 34-year-old Kim Zolciak, with her. Elizabeth told In Touch magazine that she was involved with Kroy in 2010, when he was courting Kim.
"I want Kim to know about it," Elizabeth told the publication. "The manipulation and the lies."
Elizabeth told the magazine that she first met Kroy at a party in January 2010, and after she moved to Las Vegas in July, Kroy continued chasing her and flew her out to Indianapolis where he "told me everything you'd want to hear". She added:
"It was this whirlwind, love-at-first-sight thing."
"You're my girlfriend," he allegedly told her, "We're going to make this work."
Days later, Elizabeth found some photos of her man with then-Real Housewives of Atlanta star Kim looking cozy at a wedding. She confronted Kroy who told her that the two were "just friends" but he eventually confessed. Elizabeth had no idea so this made her really upset.
Kroy and Kim in fact began dating in May 2010, but Elizabeth alleges she had been dating him herself since January of that year.
"Obviously our relationships overlapped," Elizabeth said.
To prove herself, Elizabeth provided In Touch with text messages between her and Kroy which came at the end of their brief romance after she found out about Kim.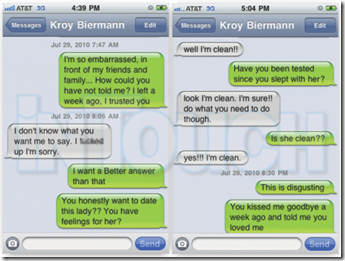 Kim and Kroy wed in 2011 and have two sons together. Kim also has two daughters from a previous relationship.
Elizabeth Anne Seward is a 26-year-old model and former cheerleader. She was born on April 07, 1987. Elizabeth is the youngest daughter of Thomas Seward, who played for Eastern Illinois University, and was the co-captain of the squad which won the NCAA Division II football title in 1978 and a former assistant coach for UNLV from 1986—1989. Seward's mother, 58-year-old Amy, was a cheerleader for the Chicago Bears.
Elizabeth's older brother is Adam Seward, an American football linebacker who currently plays for the Carolina Panthers of the NFL, and her other brother is Mark Seward, a football player for the University of Nevada Reno.
Elizabeth is now married to Todd Monteros, and she is known by the name of Elizabeth Monteros. The couple recently got married on April 27, 2013 in Las Vegas.
Find Elizabeth Seward on Facebook here.